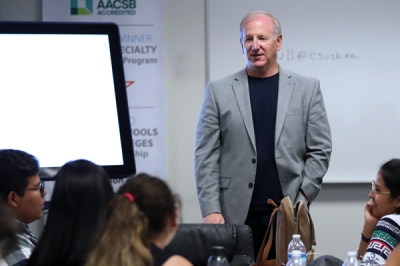 Welcome to CSUSB Entrepreneurship!
Discovering How To Think Like An Owner!™
That phrase – the mantra of our CSUSB Entrepreneurship program – is displayed as a prominent sign in the Entrepreneurship Lab at Cal State San Bernardino (CSUSB). Every student taking an Entrepreneurship course will see it – this year several hundred unique students, representing over 35 academic programs on campus, encountered the phrase. They quickly learned that it is more than just a sign.
Think Like An Owner!™ is the philosophy that drives the Entrepreneurship program. The core purpose in all of our education programs is to foster an entrepreneurial mindset and develop creative, innovative individuals who can identify local and global problems and create innovative solutions. We strongly believe that entrepreneurial approaches can be applied in any context (e.g., arts, public sector, healthcare, social movements) to produce new ideas, innovation and efficiency. Whether you want to start your own business, solve social problems through a non-profit or governmental organization, or help existing companies remain innovative and competitive, it will requiring thinking like an owner.
If you are looking for a unique program, look no further – you've found it. CSUSB Entrepreneurship is recognized as a global leader for fostering entrepreneurship and innovation (AACSB, 2017) through its academic and experiential learning programs and its unique Inland Empire Center for Entrepreneurship (IECE). From our groundbreaking Entrepreneurial Improvisation course, to a unique new Master of Science program, to the forthcoming School of Entrepreneurship (first in the State of California), we are on the leading edge entrepreneurship education. At CSUSB you'll learn what it takes to be an entrepreneur in our innovative curriculum, receive mentoring and coaching from our faculty and successful local entrepreneurs, have access to a full-time Entrepreneur in Residence and startup accelerator, and multiple experiential learning opportunities.
So, are you ready to Think Like An Owner™?

Dr. Michael Stull
Director & Professor
CSUSB Entrepreneurship and Inland Empire Center for Entrepreneurship (IECE)