History of IECE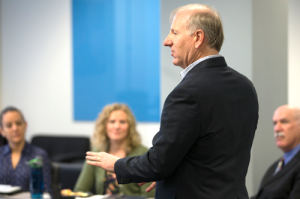 After its founding in 1999 by Dr. Pat McInturff and Dr. Jeanne King, the rapid development the Inland Empire Center for Entrepreneurship (IECE) can be traced back to Dr. Mike Stull. Since his arrival to the Jack H. Brown College of Business & Public Administration in 2002, the academic program has expanded from less than 15 students to nearly 300. Under his leadership, IECE has raised more than $36 million in grants, gifts and sponsorships.
The Center has also garnered several significant awards and recognition, including recognition from AACSB International in 2017 as one of the Top 35 Global programs for fostering entrepreneurship and innovation.
Following the mantra to "think like an owner," a key focus has been placed on establishing relationships between students and local entrepreneurs. Dr. Stull continues to serve the campus and community as the Director of IECE and the Academic Director of the CSUSB Entrepreneurship Program.
Building A Legacy
IECE supports the efforts of students, aspiring entrepreneurs, and small business owners, in the Inland Empire by delivering a wide range of programs and services. It founded the distinguished Spirit of the Entrepreneur Awards. In 2005, the first Garner Holt Student Fast Pitch Competition provided CSUSB students with the opportunity to pitch their business ideas for a cash prize, becoming a highly anticipated annual event.
More recently, the Catalyst Business Accelerator helped launch Kids that Code by providing mentoring, financial support, and a workspace to test their business idea. In addition to this, IECE has assisted over 150,000 individuals in the community through business assistance programs such as the Women's Business Center (WBC) and Small Business Development Center (SBDC).
Campus Initiatives
On campus, IECE continues to coordinate academic programs that lead to business degrees in entrepreneurship for undergraduate and graduate students as well as delivering experiential learning and student support programs such as the Garner Holt Fast Pitch Competition, Lunch with an Entrepreneur events, CSUSB Innovation Challenge, Catalyst Student Venture Fund and the Spirit of the Entrepreneur scholarship. In addition, IECE has delivered innovative specialty education programs, such as the Integrated Technology Transfer Network (ITTN), which trained minority science students from across the nation to become technology innovators and entrepreneurial leaders of the future and helped IECE win the Excellence in Entrepreneurship Education Award from the United States Association for Small Business and Entrepreneurship (USASBE) in 2010.
Community Outreach
In the community, IECE meets the needs of existing and startup entrepreneurs by offering business consulting services, student internship resources, and entrepreneurial training programs that help them achieve greater levels of success in their business ventures. Business programs offered by IECE include the Inland Empire & Coachella Valley Women's Business Center (WBC), Inland Empire Small Business Development Center (SBDC), The Professional Entrepreneur program, The OWN IT! Workshop series, the Entrepreneurial Technician courses and student consulting and project teams. Recognized annually as one of the top entrepreneurship centers in the country, IECE is a key campus and community resource.